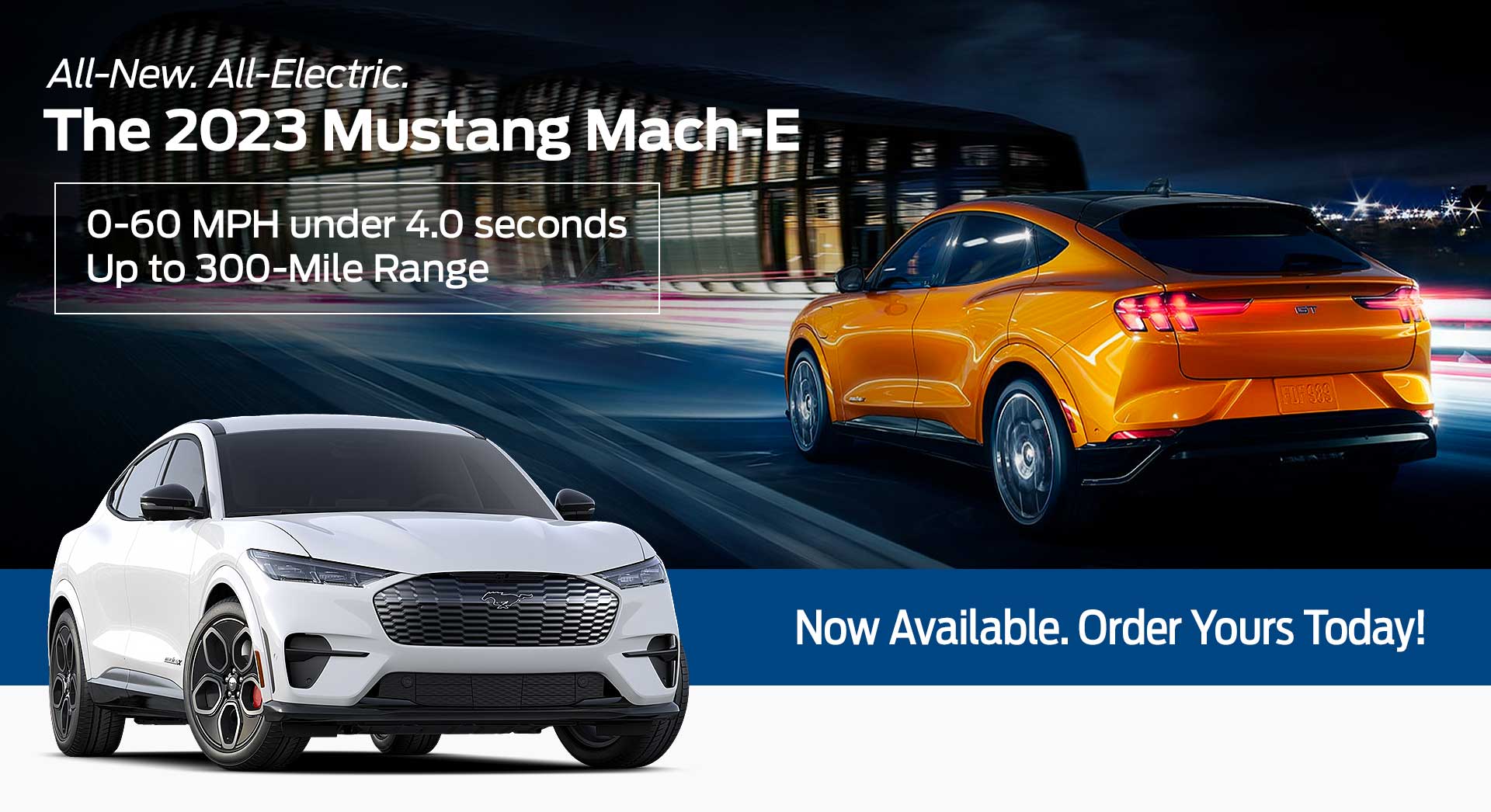 Order the All-New, All-Electric 2023 Ford Mustang Mach-E
What Is the Mustang Mach-E?
The Mustang Mach-E is nothing less than an American revolution. It blends the iconic design and legendary performance of the Ford Mustang with the world's newest all-electric automotive technology. The result is a powerful all-electric SUV - with dynamic styling - and a discussion-ending, single-charge range of up to 314 miles*. Did we mention the GT version will go 0-60 MPH in about 3.5 seconds**?
Do I Need a Reservation to Order?
You do not! Ordering is open for those who didn't reserve earlier. Simply choose one of the two ordering options below to secure your place in line for the new 2023 Ford Mustang Mach-E.
What If I Already Have a Reservation?
You should receive an email to review and complete your order online or in-dealership* (*note: if you reserved your Mach-E manually with your Dealer, you will need to complete this process with the Dealership). Simply log into your account on Ford.com to review and confirm your order specs, review dealer pricing, and submit the Order Deposit to your designated Dealership. Your initial Reservation Deposit will then be refunded to you, within 10 days. Once the final order is received, your Dealer will review and accept your order configuration within 7 days.
How Can I Order?
It's easy! Select Order Online or Order at the Dealership, below. Whichever you choose, we recommend you do it now, as you will be placed in a pool of others waiting for their Mustang Mach-E in a schedule priority order. The sooner you order, the sooner you'll get your new Mustang Mach-E. What are you waiting for?
1. Order Online:
Simply click the "Order Yours Now" below to configure your own Mach-E and follow the easy ordering process. Once completed, you will receive an "Order Placed" email confirmation.
For local delivery, be sure to select Michael Stead's Hilltop Ford as your EV certified dealership.
Call us at 888-479-2994 with any questions you have or if you need assistance with the ordering process.
Order Yours Now
2. Order at Hilltop Ford:
Simply complete the Mustang Mach-E inquiry form, below, and we will contact you to schedule an appointment.
One of Hilltop Ford's Mustang Mach-E Specialists show you the different models and help you select the right one for you.
Your Hilltop Ford Mustang Mach-E Specialist will place your order directly with Ford Motor Company and you will receive an email confirmation with your personal Mustang Mach-E order confirmation number.
Contact Us About Ordering a 2023 Mustang Mach-E
* Indicates a required field
Visit Ford's Mach-E Website to Learn More and See Photographs!
Learn More
*California Route 1 RWD with extended range battery pack. Based on full charge. Actual range may vary.
**Targeted 0-60. Based on manufacturer calculation using computer engineering simulations. Your results may vary. Mid 3-second range achieved with GT Model with extended range battery and all-wheel drive and other optional equipment.