Ford Expands Popular Explorer Line with
New XLT Sport Package for 2017
3/4/2016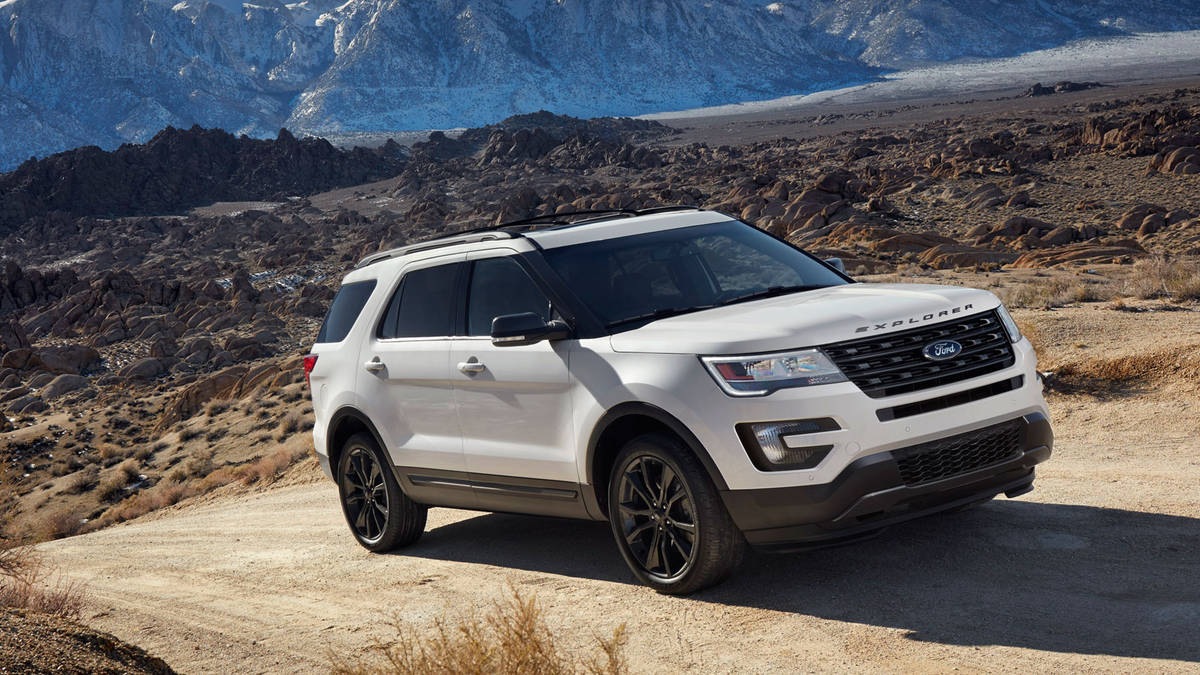 SUV demand is exploding all across the nation. In response, Ford is adding an incredible new Explorer package to its line of SUVs. Read all about it in this press release straight from Ford:
DEARBORN, Mich., Feb. 9, 2016 - Giving SUV buyers a fresh option for a sportier-looking ride, Ford adds the new Explorer XLT Sport Appearance Package to its popular full-size SUV lineup for 2017. The addition of the package expands Explorer offerings to six models. Other versions include base, XLT, Limited, Sport and the Platinum edition.
Explorer buyers are demonstrating an interest in unique models. Sales of Explorer Sport and Platinum, the two top models, account for approximately 30 percent of Explorer sales in the U.S. market. The new XLT Sport Appearance Package joins the Explorer family beginning this summer.
The 2017 Ford Escape, launching in the coming months, will feature a unique Sport Appearance Package as well.
"Our Sport Appearance philosophy is rooted in the fact that we know exterior appearance is the No. 1 consideration in SUV purchase decisions," said Omar Odeh, Explorer brand marketing manager. "The XLT Sport Appearance Package is a dramatic offering that gives customers another attractive option."
The Explorer XLT Sport Appearance Package features updates both inside and out:
20-inch Magnetic Gray wheels
Magnetic Gray grille
Magnetic Gray mirror caps
Magnetic Gray rear appliqué
Ebony Black body side cladding
Black roof rack
Explorer hood badge
Dark Earth Gray leather for front seats, including outer bolsters by premium leather maker Salerno; Dark Earth Gray Miko® suede for seat back uppers and inserts with Umber scrim, and door trim inserts; Umber contrast stitching
Explorer logo floor mats
The 2017 Explorer XLT Sport Appearance Package comes equipped with standard XLT features including a 3.5-liter V6 engine, Intelligent Access with push-button start, 10-way power driver's seat with lumbar support, SYNC® 3, LED fog lamps and much more.
"In the market right now, across all our SUVs, customers are looking for unique colors, wheels and interior appointments," said Odeh. "We've worked closely with Ford Design to deliver a unique look that will resonate with customers."
Beginning this spring, Escape buyers can consider the Sport Appearance Package for 2017 as well - available for Escape SE and Titanium models. The package includes premium 19-inch Ebony Black aluminum wheels and high-gloss upper grille; black beltline molding and front fenders; partial leather sport seats with contrast stitching, and more.
SUV sales remain robust in U.S. marketDriven in part by increased sales to maturing millennials and continued interest from baby boomers - the two largest consumer groups in the U.S. market - SUV performance is robust and is expected to continue through the end of the decade.
More efficient than ever, with EcoBoost® engines available for every nameplate, Ford-brand SUV sales totaled more than 740,000 vehicles in 2015 - an increase of nearly 7 percent versus a year earlier. Escape sales in 2015 reached 306,492 vehicles - an all-time record. Sales of the new Edge grew 14 percent, with Explorer sales increasing more than 18 percent.
Ford Transit Connect Wagon: The Unminivan Breaks From Traditional Seven-Passenger People Mover
5/2/2014
 
Fuel efficient, flexible, uniquely styled and fun to drive, Transit Connect Wagon is an affordable people mover for families and active individuals who want to be ready for whatever life brings.
"Ford's all-new Transit Connect Wagon is unlike anything else," said Minyang Jiang, Transit Connect brand manager, Ford Motor Company. "It drives like a car, has the flexibility of a utility and can haul the payload of a full-size pickup. This new wagon is a great combination of affordability and functionality - a unique global vehicle we're proud to offer our customers."
Transit Connect Wagon is now on sale in North America at a starting price of around $25,000. It is available in two wheelbase lengths - a five-passenger with removable seating or a seven-passenger with fold-flat seating. It offers sliding side doors, a choice of a rear liftgate or side-hinged cargo doors, more than 100 cubic feet of cargo space and a maximum payload of 1,270 pounds. Available trim levels include XL, XLT and the range-topping Titanium.
Customers can select from two fuel-efficient four-cylinder engines - the standard 2.5-liter with an EPA-estimated rating of 28 mpg on the highway, and a 1.6-liter EcoBoost® with an EPA-estimated rating of 29 mpg highway.
Both engines are paired to a six-speed SelectShift® automatic transmission designed for smooth driving around town and efficiency on the highway.
Transit Connect Wagon shares Ford's global C-platform with the sporty Focus model, making it easy to maneuver in parking lots while being fun to drive on curvy roads. Torque vectoring control technology, which uses the brakes to provide stability through turns, is responsible for the fun handling characteristics the vehicle offers.
Ford Reveals All-New Focus Sedan, Retains World's Best-Selling Nameplate Title For 2013

4/9/2014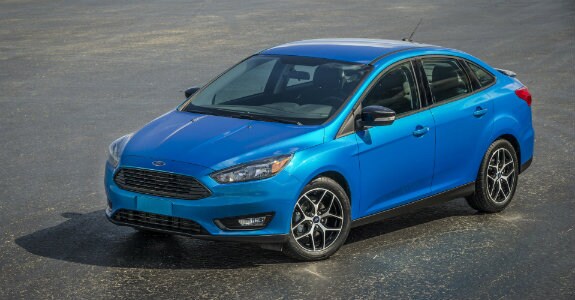 Award-Winning 1.0-Liter EcoBoost

In addition to a host of styling and technological advances, the new Focus will offer the remarkably efficient, fun-to-drive, award-winning 1.0-liter EcoBoost® engine with a six-speed transmission - surpassing the fuel efficiency of the previous model, and once again raising the bar amongst the competition. Twice already, automotive journalists have named Ford's 1.0-liter EcoBoost powerplant International Engine of the Year, for 2012 and 2013. The optional engine will be offered alongside the base 2.0-liter GDI I-4 engine, which currently helps the Focus deliver an EPA-estimated rating of 40 mpg on the highway.

"The 1.0-liter EcoBoost engine is proof that excellent fuel economy and performance can come in one package," said Raj Nair, Ford group vice president, global product development. "Focus is already known for bringing together efficiency and fun, and our latest addition will bring consumers a whole new level of enjoyment - on the road and at the pump."

The smallest engine in the company's growing EcoBoost family will increase the choice for Ford customers in the United States, as Fiesta is already available with the 1.0-liter EcoBoost engine.
EcoBoost technology combines smaller-displacement engines with turbocharging, direct injection, variable valve timing and proprietary Ford software to bring customers outstanding performance and fuel economy. Ford EcoBoost engines can deliver significantly better fuel economy than larger-displacement gasoline engines.
Ford Reveals 2015 Expedition With EcoBoost Engine, Advanced Technology, New Platinum Series

2/18/2014



2015 Ford Expedition will feature 3.5-liter, direct-injected twin-turbocharged EcoBoost® engine popular in Ford F-Series; engine designed to deliver most powerful, fuel-efficient Expedition ever
Advanced technology in new Expedition includes Blind Spot Information System® with cross-traffic alert, electric power-assisted steering, SYNC® with MyFord Touch®, available suspension damping to improve passenger comfort; a new high-trim Platinum series debuts
Ford global utility vehicle sales rose 35 percent in 2013; Ford has been the leader in North America utility vehicle sales since 2011
The new 2015 Ford Expedition continues to represent the smart choice for people who need a full-size utility vehicle that provides capable performance, usable space and advanced technology.

Expedition now features Ford F-Series' popular 3.5-liter EcoBoost® engine, more technology than ever and a fresh new look. Launching later this year, it is the latest Ford nameplate to offer a Platinum series. Expedition is being shown for the first time in Texas, Ford's largest market by sales volume, and home to the top two cities for Expedition sales - Dallas and Houston.

Expedition debuted in 1996 and is Ford's largest utility vehicle. By most measures, it is a leader in interior space, accommodating eight passengers. Two versions are offered - the standard 119-inch wheelbase is just more than 6 inches longer than Ford Explorer. It has three rows of seats and up to 108.3 cubic feet of cargo space. The longer-wheelbase version sits on a 131-inch wheelbase, and features three rows of seats and up to 130.8 cubic feet of cargo space.



All-New Ford F-150 Redefines Full-Size Trucks As The Toughest, Smartest, Most Capable F-150 Ever
1/13/2014



F-150 is part of the Ford F-Series truck lineup, America's best-selling truck for 37 consecutive years and America's best-selling vehicle for 32 years.
"We have a unique connection with our customers," said Joe Hinrichs, Ford executive vice president and president of The Americas. "Time and again, F-150 has delivered the tougher, smarter features they want along with the capabilities they need for work or play. We build our trucks to their high standards."
In designing the backbone of the F-150, Ford engineers improved the truck's signature fully boxed ladder frame. It is all-new with more high-strength steel than ever - making it stronger and lighter. High-strength, military-grade, aluminum alloys - already used in aerospace, commercial transportation, energy and many other rugged industries - are used throughout the F-150 body for the first time, improving dent and ding resistance and also saving weight. Overall, up to 700 pounds of weight have been saved, helping the F-150 tow more, haul more, accelerate quicker and stop shorter, and contributing to efficiency.
"More than ever before, customers want a truck that is a dependable partner, mobile office and a go-anywhere workshop," said Raj Nair, Ford group vice president, Global Product Development. "To meet the needs of our truck customers, we created smart new features and a whole new approach to using advanced materials and engines to improve capability and efficiency."
The 2015 Ford F-150 is the strongest and most durable F-150 ever. Before it goes on sale, it will have been torture-tested in labs, at Ford proving grounds and in the hands of some of Ford's most demanding truck customers for more than 10 million miles.
The grueling testing simulated the demands Ford's customers will subject the truck to throughout its average lifetime. The tests include crisscrossing the country pulling heavy trailers and hefty loads through desert valleys and over high-altitude mountain passes - in temperatures from 20 degrees below zero to 120 degrees Fahrenheit.


Ford Mustang Marks 50 Years With All-New Sleek Design, Innovative Technologies And World-Class Performance

12/5/2013

  

The next chapter in the life of the iconic pony car begins today as the all-new Ford Mustang - loaded with innovative technologies and delivering world-class levels of performance - is simultaneously revealed around the globe in six cities on four continents.
"Ford Mustang inspires passion like no other car," said Raj Nair, Ford group vice president, global product development. "The visceral look, sound and performance of Mustang resonates with people, even if they've never driven one. Mustang is definitely more than just a car - it is the heart and soul of Ford."
The clean-sheet design of both Mustang fastback and convertible evokes the essential character of the brand, retaining key design elements - including the long sculpted hood and short rear deck - with contemporary execution.
"You only get one chance to make a first impression, and when you see this car you immediately see a Mustang strong and true," said Moray Callum, Ford executive director, design, The Americas.
Several key design features define the all-new Mustang, including:
A lower, wider stance with a reduction in roof height, and wider rear fenders and track
The return of Mustang fastback with a sleeker profile enabled by more steeply sloped windshield and rear glass
Three-dimensional, tri-bar tail lamps with sequential turn signals
Contemporary execution of the signature shark-bite front fascia and trapezoidal grille
The way Mustang looks, drives and sounds is key to the visceral experience that makes drivers just want to get in and hit the road. With more options to choose from, there is a Mustang to fit any lifestyle. The upgraded V6 and V8 are joined by an all-new 2.3-liter EcoBoost® engine that brings state-of-the-art technology to Mustang.
Mustang GT continues with the latest edition of the throaty 5.0-liter V8, now featuring an upgraded valvetrain and cylinder heads that yield more than 420 horsepower and 390 lb.-ft. of torque. A new intake manifold improves low-speed breathing for better fuel economy, idle stability and emissions.
Ford F-150 EcoBoost Hits 400,000 Sales, Saving 45 Million Gallons of Gas Annually

11/13/2013




Ford's strategy to deliver fuel-saving technology across its lineup is helping customers conserve at the pump, with F-150 owners making a big dent in gasoline usage.

In fact, F-150 EcoBoost owners collectively are saving an estimated 45 million gallons of gas annually, while out-towing competitive trucks of similar vintage by at least 1,000 pounds. This estimated 45 million gallon savings exceeds the estimated fuel savings of all Toyota and Tesla plug-in electrified vehicles sold in the U.S. through October, and assumes these electrified vehicles use no gasoline, replace the same number of 2010 F-150 V8 4x4 trucks and drive 15,000 miles per year.

Estimated fuel savings are based on the EPA-estimated combined ratings for 2011-13 F-150 EcoBoost models and for the same mix of 5.4-liter V8-equipped 2010 F-150 models, across 400,000 units and 15,000 miles of driving a year. F-150 EcoBoost sales are comprised mostly of 4x4 trucks with EPA-estimated ratings of 15 mpg city and 17 mpg combined, and a smaller percentage of 4x2 trucks with EPA-estimated ratings of 16 mpg city and 18 mpg combined. Ford has had success transitioning many customers to the new EcoBoost offering.

"F-150 EcoBoost is a great example of how our customers save at the pump while outworking the competition," says Scott.

MyFord Mobile Data Show Ford Plug-Ins Use Enough Electric-Only Miles To Circle World Eight Times Every Day
9/26/2013
 
Ford plug-in hybrid vehicles rack up enough electric-only miles every day to drive around the earth nearly eight times, a number rapidly increasing as Ford continues investing in infrastructure while exclusive features like MyFord® Mobile help improve driving habits.

Data show Ford plug-in hybrids are being driven about 203,000 electric miles every day and more than 8,400 miles every hour. The aggregate data are collected through MyFord Mobile, available on Ford's plug-in vehicles, Fusion Energi and C-MAX Energi, and Focus Electric.

The number of electric-only miles is expected to continue increasing, as data suggest driving habits evolve for new hybrid owners through the use of MyFord Mobile and other features such as SmartGauge® with EcoGuide. After six months, nearly 30 percent of all trips are gas-free compared with about 20 percent at the beginning of vehicle ownership.

MyFord Mobile available through the App Store and Google Play allows drivers to link up with their cars via an embedded AT&T wireless module that provides remote communication with the car to maximize utility and minimize operating costs; a multiyear wireless service subscription is included with every Ford electrified vehicle.
The data provide Ford decision makers with a clear picture of how vehicles are being used and are performing in the real world. A recent analysis found:

Charge stations accessible through MyFord Mobile: 20,000
Average number of trips between charges: Four
Average number of charges per vehicle every week: 6.3
Percent of Ford plug-in hybrids using level one charging stations: 70 percent
Short trips: 83 percent of one-way trips are of distances 20 miles or less





Technology Helps Fiesta Outsell Competitive Subcompacts as Ford Sees Fastest Share Growth Among Millennials 
8/23/2013

 
The stylish, fuel-efficient and technology-loaded Ford Fiesta outsold the Toyota and Scion brands' triplet of subcompact vehicles in the first half of 2013, and is drawing a younger audience of 46 percent gen Y and gen X buyers, compared to Toyota's 36 percent average
Based on Ford analysis of Polk retail registration data, the Ford brand has grown its retail share of the millennial market faster than any other automotive brand since 2009, a pace that would soon make Ford the No. 1 choice for young buyers
Fifty-four percent of Fiesta buyers cite Ford SYNC® technology as a top purchase driver compared to Toyota's 37 percent average; 2014 Fiesta SE with Super Fuel Economy package is EPA-rated at 41 mpg highway, the only subcompact to achieve more than 40 mpg
One Ford global product strategy continues delivering innovations more rapidly, as the freshened 2014 Ford Fiesta adds the award-winning 1.0-liter EcoBoost® engine and MyFord Touch® driver connect technology



Ford Upgrades 2014 C-Max Hybrid For Better Fuel Economy, Changes 2013 Label To Improve Customer Satisfaction 
8/15/2013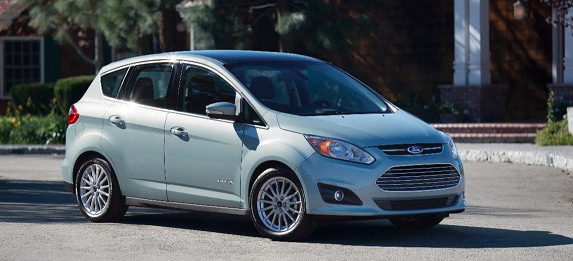 Underscoring its commitment to fuel economy leadership, Ford Motor Company today said it is upgrading the 2014 Ford C-MAX Hybrid, which will go on sale in December. The company also is changing the way it tests and labels the 2013 C-MAX Hybrid for fuel economy to better match performance and improve customer satisfaction.
The upgrades build on powertrain software updates Ford announced last month for the 2013 C-MAX Hybrid. The 2014 C-MAX also will benefit from several hardware changes, including:
Gearing changes that result in a more efficient transmission drive ratio
New hood seal, front and rear tire deflectors, A-pillar moldings and the addition of rear lift gate deflectors to improve vehicle aerodynamics
New engine oil with reduced friction
The enhancements to the 2014 C-MAX Hybrid are expected to improve customers' on-road fuel economy, especially at highway speeds.
"Ford is absolutely committed to being a leader in the hybrid market and to top fuel efficiency across our lineup," said Raj Nair, group vice president, global product development. "We are taking actions with our popular C-MAX Hybrid so that customers are even more satisfied with the vehicle's on-road fuel efficiency performance."


Ford Further Improving On-Road Hybrid Fuel Economy and Hiring For Future, Electrified Vehicle Share Quadruples 
7/16/2013

As Ford's share of the U.S. electrified vehicle market has quadrupled in the past year, the company is announcing improvements to the on-road fuel economy performance of its hybrid vehicles, hiring new engineers, and expanding its research facilities for expected continued growth.
This year, Ford's share of the U.S. electrified vehicle market is up 12 share points to nearly 16 percent, while Toyota's share is down 8 share points, and more customers are trading in their Priuses for the new Ford C-MAX Hybrid.
"Strong consumer acceptance of Ford hybrids shows that our plan to lead in fuel economy across our lineup is working," said Raj Nair, group vice president, Global Product Development. "Our commitment to deliver great fuel economy in our cars, utilities and trucks is a key reason we are seeing strong growth in coastal markets and with import buyers."
Ford reported electrified vehicle sales of 46,197 units through June ? more than 400 percent higher than the same period a year ago. Ford C-MAX Hybrid and Ford C-MAX Energi plug-in hybrid are helping drive this growth. C-MAX is drawing new buyers in coastal markets and in Florida and Texas, as Toyota Prius U.S. sales have declined 5 percent. Meanwhile, the Ford brand had the largest retail share increase in California of any brand during the first five months of 2013, based on the latest Polk retail registration data
Last month, 64 percent of C-MAX Hybrid buyers came from non-Ford brands. In fact, the vehicle most traded in for a Ford C-MAX is Toyota Prius.
All New 2014 Ford F-150 Tremor Is World's First EcoBoost-Powered Sport Truck
6/27/2013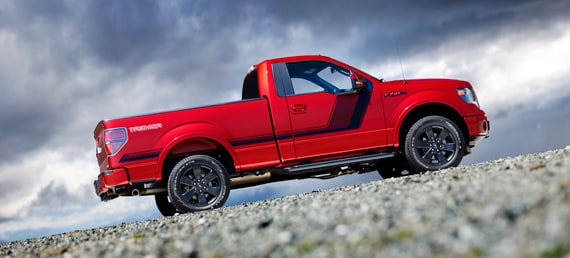 The 2014 Ford F-150 Tremor is the first-ever EcoBoost®-powered sport truck that addresses the needs of street truck enthusiasts looking for high-performance V8 power with V6 fuel economy.

The short-wheelbase, regular-cab Tremor goes on sale this fall delivering distinctive looks and performance. The all-new truck couples the style of the FX Appearance Package with an EcoBoost engine and a launch-optimized 4.10 rear axle ? the shortest final drive ratio offered in an EcoBoost F-150 ? helping provide customers with fast acceleration.
Tremor signals its sport truck capabilities with a custom-inspired FX Appearance Package featuring stealthy, flat-black accents that include unique 20-inch flat-black wheels, stylized bodyside graphics and black badges with red lettering.
F-150 Tremor is powered exclusively by Ford's groundbreaking 3.5-liter EcoBoost engine, which features:
365 horsepower at 5,000 rpm on regular fuel
420 lb.-ft. of torque at 2,500 rpm
Twin independent variable camshaft timing for improved performance and fuel economy
Up to 90 percent peak torque available from 1,700 rpm to 5,000rpm

An electronic locking rear differential that's standard for both two- and four-wheel-drive versions helps deliver the power to the pavement by improving traction during takeoff.
Connectivity comes standard on F-150 Tremor with MyFord Touch® powered by SYNC®. Designers have optimized the physical interface for MyFord Touch to accommodate truck users who may be wearing work gloves by providing easy access to climate controls and audio presets on the center stack.



Ford F-150 Chosen as Best Light-Duty Pickup Truck by PickupTrucks.com and Popular Mechanics Magazine
6/17/13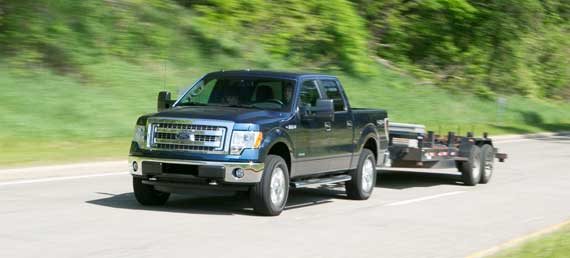 The Ford F-150 has been named winner of the 2013 Light-Duty Challenge by the editors of PickupTrucks.com and Popular Mechanics Magazine.
"In our performance-oriented competitive events, the Ford half-ton was dominating," says Mark Williams, editor of PickupTrucks.com. "It finished in either first or second place in 11 of 13 events. If this were the Olympics, there would be a new Ford F-150 on a cereal box."
F-150 beat out five competitors, including two of the newest entries from General Motors and the latest Ram.
Judges tested the 2013 Ford F-150 against the 2014 Chevrolet Silverado 1500, 2014 GMC Sierra 1500, 2013 Nissan Titan, 2013 Ram 1500 and 2013 Toyota Tundra. Trucks were put through rigorous performance tests including 0-60 mph acceleration (loaded and unloaded), braking, overall handling, towing and fuel economy.
"The results of this test show why F-Series has been the best-selling pickup truck in America for more than 30 years," says Doug Scott, Ford truck group marketing manager. "We know our light-duty customers are looking for a pickup truck that delivers the leading combination of towing, payload, horsepower, torque and fuel economy, and this shootout proves F-150 continues to lead the pack."
2014 Ford Fiesta Earns Best-in-Class 41 MPG on the Highway
6/12/13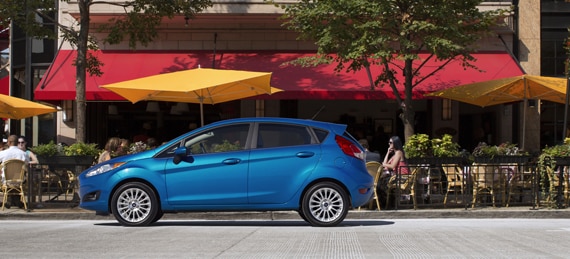 The new 2014 Ford Fiesta has achieved 41 mpg in EPA testing. Fiesta is the only subcompact car to surpass 40 mpg.

The fuel economy claim is for Fiesta SE with the Super Fuel Economy package that includes Ford's 1.6-liter engine and PowerShift automatic transmission. Along with the EPA-certified 41 mpg highway rating, Fiesta achieves 30 mpg in the city and 34 mpg combined.
The claim is significant because fuel economy is often cited as the No. 1 reason for purchase consideration in the subcompact class, according to Ford data. The new 2014 Fiesta will be arriving in dealers soon.
"The 2014 model is shaping up to be a game changer for Fiesta," said Liz Elser, Ford Fiesta marketing manager. "With the addition of Fiesta ST and the award-winning 1.0-liter EcoBoost®, we have fantastic performance and fuel efficiency. But with today's news, buyers will have a fuel-efficient Fiesta no matter which they choose."
Two key technologies help Fiesta achieve fuel economy leadership ? its advanced aerodynamics and dry, dual-clutch PowerShift automatic transmission.
In terms of aerodynamics, the SFE package adds rear spoiler, side air deflectors, underbody shields, lower grille blockers, low-rolling-resistance tires and cruise control. Together, these features decrease the amount of fuel needed to push the car through the air at speed.
The second enabler is the PowerShift transmission. Unlike regular, hydraulically operated automatic transmissions that use power-sapping torque converters, wet clutches and pumps, Ford's new dual-clutch PowerShift automatic consists of two manual transmissions ? in the same case ? working in parallel. Each has its own independent clutch unit controlled by computers, and fast-acting electromechanical actuators that shift the gears.
To read the full articles, please visit the
Ford News Center
.