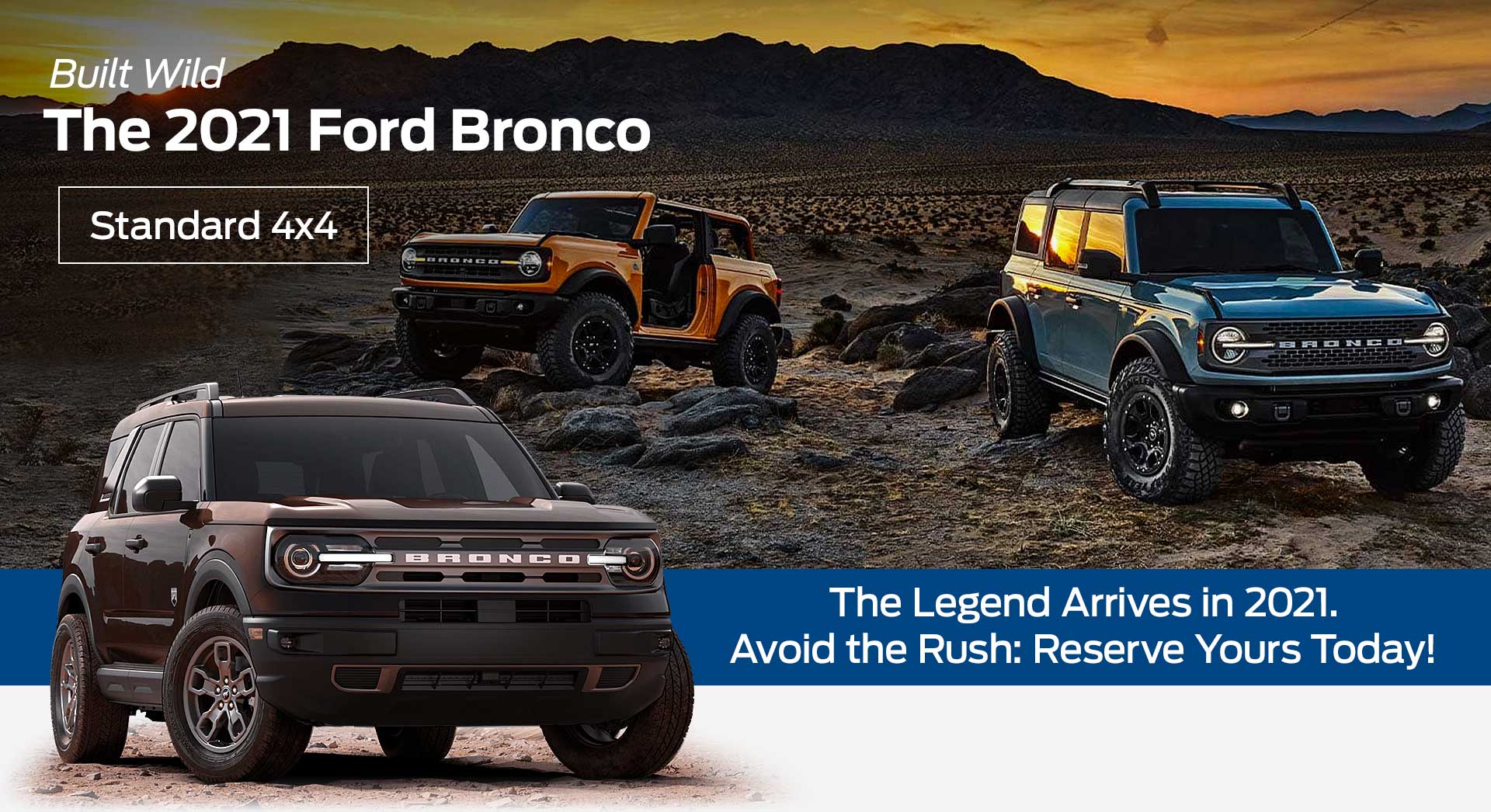 The 2021 Ford Bronco is Finally Here at Hilltop Ford
Schedule A Test Drive
What Is the Ford Bronco?
The legendary Ford Bronco returns with impressive off-road capabilities, innovative technology and on-road conveniences. Get the Bronco 2-door, 4-door or Sport, available in seven trims, each tailored to fit your level of adventure. You get a choice between a 270 hp 2.3 liter or 310 hp twin-turbo 2.7 liter V6 and optional manual transmission. The 4x4 SUV offers removable doors and roof, with body-on-frame construction and accessories that make this exciting vehicle fully customizable.
Why Do I Need to Add My Name to the Reservation List?
Demand is already soaring for the new Ford Bronco and if you want to get it sooner, you need to be on the list. Reserve now to secure your Bronco, before the list gets full!
OK, How Do I Reserve My 2021 Bronco?
You have two easy options, but we recommend you do it now. Every minute adds more names to the list. Remember, people all across America will be waiting for the chance to own the new Bronco.
1. Reserve Online:
Simply click the "Reserve Bronco" or "Reserve Bronco Sport" below and follow the easy reservation process.
For local delivery, be sure to select Michael Stead's Hilltop Ford as your certified dealership.
Secure your Bronco with just a $100 deposit, fully refundable.
Call us at 888-479-2994 with any questions you have or if you need assistance with the reservation process.
Reserve Bronco
Reserve Bronco Sport
2. Reserve at Hilltop Ford:
Simply complete the Bronco inquiry form, below, and we will contact you to schedule an appointment.
One of Hilltop Ford's Bronco Experts will show you the different models and help you select the right one for you.
At that time, we will collect your fully refundable $100 deposit, a copy of your license, and signed Terms & Conditions.
Your Hilltop Ford Bronco Expert will place your reservation directly with Ford Motor Company and you will receive an email confirmation with your personal Bronco reservation number.
Reserve Your Bronco
See the 2021 Bronco Sport Video
Visit Ford's Bronco Website to Learn More and See Photographs!
See the Bronco