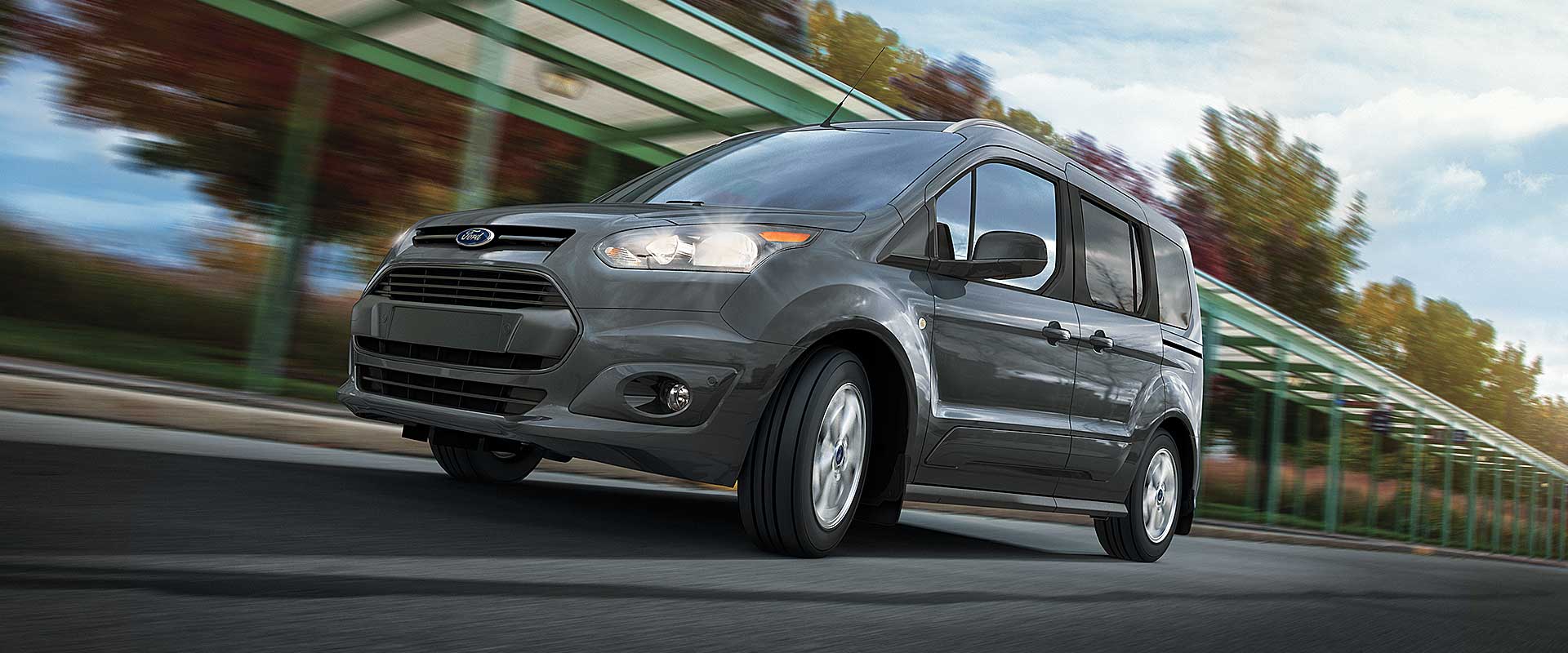 The Right Fit for Family and Business
The 2017 Ford Transit Connect was made for the go-getter. For the person who accomplishes more in a day than most do in a week. Less expensive and easier to maneuver than regular minivans, the Transit Connect is a compact commercial van available in two body styles--Cargo Van and Wagon. The Cargo Van is perfect for the business-oriented driver who needs a traveling workspace. With seating for two and an empty bed of 128.6 cubic feet of cargo space, the Cargo Van is able to hold all your creative endeavors. The Wagon style is perfect for families with places to be, whether that's a soccer match, recital, or summer vacation, the Wagon's roomy interior, with seating for up to seven, is the ride that'll get you there. The best part of the Transit Connect is its customization options. There seem to be an endless number of door, window, storage, infotainment, and luxury features to tailer your Transit Connect to suit all your needs and dreams.
Readymade Safety
Standard safety features include anti-lock brakes, traction and stability control, hill start assist, and front seat and side curtain airbags. Optional features on various models include front and rear parking sensors, daytime running lights, blind-spot and cross-traffic warning systems, and a rearview camera. Plus, the optional Ford Sync and Sync 3 systems include an emergency crash notification feature that automatically dials 911 when it's paired with a compatible cell phone.
The Right Engine for the Job
Operating on a six speed automatic transmission, the 2017 Transit Connect is powered by a 2.5 liter four-cylinder engine that delivers 169 horsepower and 171 pound-feet of torque.
Safety First
The Transit Connect's various technology options are focused on improving safety and enhancing rider experience. Such options include:
Electric power-assisted steering
Electronic emergency brake assist and hill start assist
AdvanceTrac® with RSC® and trailer sway control
Quickclear™ Electric Windshield Defroster
Forward and reverse sensing systems
Remote start system with perimeter alarm
The Power to Drive On
With one engine available for both Cargo Van and Wagon body styles, the EPA's estimated fuel economy for the 2017 Transit Connect Cargo Van is 20 mpg for city miles and 27 mpg for highway driving, while the 2017 Transit Connect Wagon's rating is slightly less at 19 mpg for city and the same 27 mpg for highway.*
Room to Grow
When it comes to cargo space and roomy interiors, both Transit Connect body styles deliver. The Transit Connect Cargo Van offers up to 128.6 cubic feet of cargo, whereas the Transit Connect Wagon provides up to 100 cubic feet of cargo room. There are additional storage options available on the Wagon to help organize travel, such as closing overhead bins--similar to those found on airplanes.
The World at Your Fingertips
A much appreciated enhancement in the 2017 Transit Connect is its infotainment upgrade. Now included is Ford's latest Sync 3 system with a 6.5-inch touchscreen, which comes standard on the 2017 Titanium model and optional on the XLT.
Room for Everyone
There are loads of customization options available for the Transit Connect, but one feature that comes standard is its roomy interior and ample headroom. With the option for a fixed-glass panoramic roof that brings the outside in, driving in the Transit Van can feel like you're surrounded by windows. One special standard feature in the Cargo Van are LED lights in the cargo area, which are super helpful aids when loading and unloading at night.
*MPG rating is based on 2016 EPA mileage estimates and is used for comparison purposes only; actual mileage will vary depending on driving conditions, how you drive and maintain your vehicle, battery package condition, and other factors.
View Transit Connect Inventory