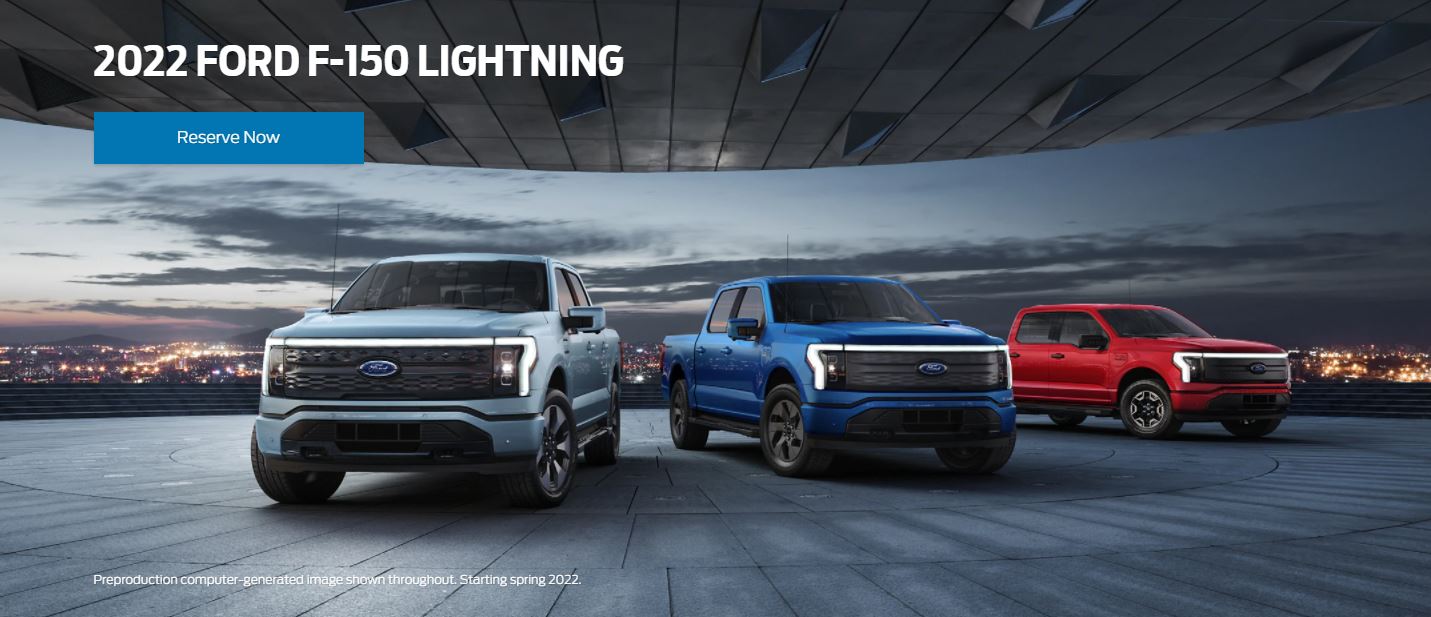 Fast Facts:
One Truck Configuration:

Dual Electric Motors, 4-Door Super Crew, 5.5 ft bed 

Two Battery Configurations: 

    o Standard-Range Battery - 230 Mile EV Range, 426 hp & 775 lbs.-ft, 0-60 est. 5 seconds 
    o Extended-Range Battery - 300 Mile EV Range, 563 hp & 775 lbs.-ft, 0-60 est. mid 4 seconds 

Capability:

Max of 10,000 lbs Towing, Max of 2,000 lbs payload 

Four Series:

Commercial-Vehicle Oriented (More Details Coming Soon), XLT, Lariat, Platinum 

Available Pricing Information:

The entry model starts at $39,974 MSRP (commercial-oriented). More-equipped mid-series (XLT) starts at $52,974 MSRP, offering additional comfort and technology. 

Price Range:

MSRP starting at $39,974 to up to around $90,474. 

Mega Power Frunk:

Best-in-class 400 liters of cargo space, 400 lbs. of payload, Power up/down easy access 

Key Technology:

Intelligent Range, Pro Trailer Hitch Assist, Ford Power-up Software Updates, Ford Intelligent Backup Power, Onboards Scales, Smart Hitch, BlueCruise hands-free highway driving, Phone-as-a-Key 

Interior Display:

CV Oriented & XLT series come standard with SYNC 4 w/ 12" Landscape touchscreen, Lariat & Platinum series come standard with SYNC 4A w/ 15.5" Portrait touchscreen 

Enhanced Pro Power Onboard:

Available 9.6 kW of onboard exportable power through 10 120v outlets, 1 240v outlets, 8 USB ports (4 USB-A, 4 USB-C), and 2 12v outlets 
F-150 Lightning is powered by a lithium-ion battery pack, delivering a great combination of power, performance and range 
Customers can charge at home with the included 32-amp mobile charge cord, using a standard outlet or a 240V NEMA 14-50 outlet, or by installing the 48-amp Ford Connected Charge Station, 80-amp Ford Charge Station Pro or a third-party charging station 
The all-electric F-150 Lightning extended-range leads the industry by providing the 80-Amp Ford Charge Station Pro as standard equipment. Ford is the only automaker to offer an 80-amp charge station as standard equipment, helping all extended-range customers easily charge overnight. 
Ford Intelligent Backup Power is enabled through the 80-amp Ford Charge Station Pro with proper home installation 
Level 2 AC Charging: The 80-amp Ford Charge Station Pro charges 15%-100% in 8 hours at home. This equates to up to 30 miles of charge per hour. 
Level 3 DC Fast Charging: F-150 Lightning has the ability to DC Fast Charge (150 kW DCFC) from 15%-80% in 41 minutes with the extended-range battery. This equates to up to 54 miles of charge in only 10 minutes with 150kW DCFC. 
Customers will have access to the FordPass Charging network, the largest public charging network in North America 
The F-150 batteries can be replaced and recycled at the end of their life 
Reservation FAQS:
What is a reservation? 
You will be able to place a reservation on Ford.com after the reveal to secure your place in line for the all-new, all-electric F-150 Lightning from Ford. The deposit is $100 and is refundable if you change your mind. It is not an actual order and does not guarantee delivery. Please remember to select Hilltop Ford as your EV dealership when placing your reservation!

Can I make changes to my reservation? 
You will be able to make changes and complete your vehicle selection at the time you place your order.* Vehicle configuration options will not be available until later this year.
When will I take delivery of my vehicle? 
You will be able to convert your F-150 Lightning reservation into an order later this year. Production and deliveries will begin mid 2022. Delivery times may vary based on vehicle model and configuration selected, residency and demand. Once your vehicle is scheduled, you will receive further notification.   

*By completing the Reservation Process, you are not ordering or purchasing a vehicle. Participation in the Program does not guarantee you vehicle delivery. Your Reservation does not guarantee a set price for the Vehicle.